Why am I in DuoLife ?
I care for myself and my family.
I live my life knowingly!
Because prevention is better than treatment!
My personal message
My name is Robert Potoczny.

I welcome you to the registration page of DuoLife Club.

By registering to DuoLife Club you become part of a unique community that in its life is guided by the most valuable qualities, which are INTEGRITY, WORK ETHICS, RELIABILITY, PARTNERSHIP, RELATIONSHIP AND INTEGRATION.

DuoLife Club allows its members to personal and business development, and also allows them to take care of what is most important- HEALTH of theirs and their loved ones

In case of any doubts I will be happy to help and answer any questions related to DuoLife Club.

I wish you that from today, your every day was special...
My favorite products
DuoLife Medical Formula BorelissPro® is a product with carefully selected substances in the right proportions that are designed to stimulate the immunology of the organism and alleviate the effects of tick bites.
DuoLife Vita C is a solution for those looking for an infallible way to boost their mood and supplement their vitamin and minerals deficiencies, so simply for those who like to enjoy their life and have full energy!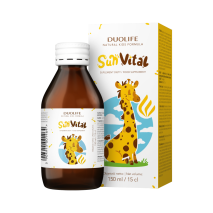 SunVital® is a beginning of DuoLife Kids Formula product line, dedicated to the youngest. The syrup contains natural plant substances and organic zinc.